Datalore: 2022.3
Hub: 2022.3.15181
Docker: 20.10.21
Docker Compose: v2.12.2
OS: Rocky Linux 9
Following the instruction, I've configured Hub. But I can't visit Datalore when Datalore starts with Hub configuration. When visiting Datalore(http://172.16.40.250:8080), it will redirect the browser to http://127.0.0.1:8080/api/hub/openid/login, then the browser gets the error message ERR_CONNECTION_REFUSED.
Datalore can start successfully without Hub configuration.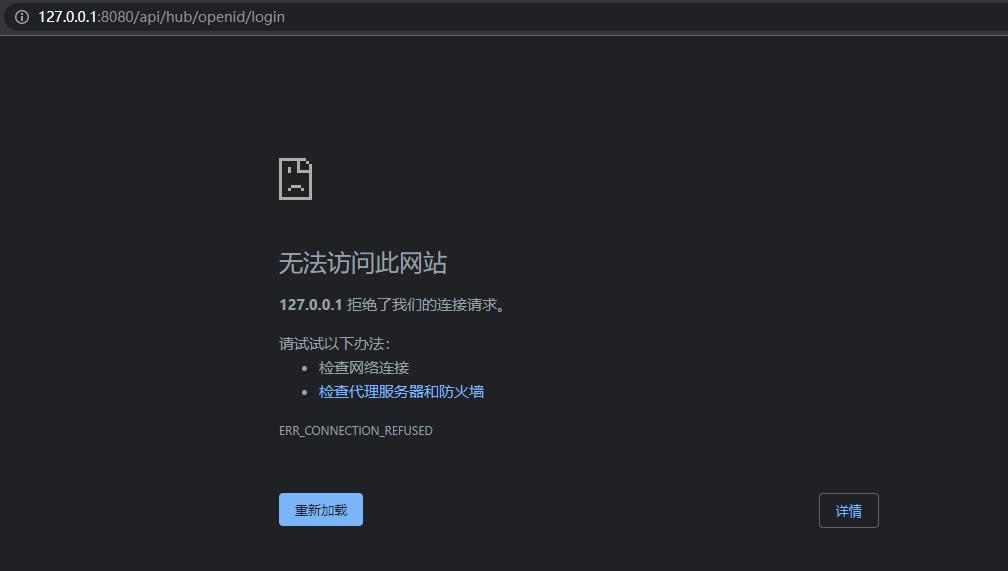 Here is log
Attaching to docker-compose-datalore-1, docker-compose-hub-1
docker-compose-datalore-1  | Starting datalore 2022.3
docker-compose-datalore-1  | Using default docker.agents-config.yaml. If you want to customize in please mount your's agents-config.yaml into /opt/datalore/configs/agents-config.yaml
docker-compose-datalore-1  | WARN  : Forking second JVM due to forking module(s): [logging-jul-capture]. Use --dry-run to generate the command line to avoid forking.
docker-compose-hub-1       | Starting Hub...
docker-compose-hub-1       | * Configuring JetBrains Hub 2022.3
docker-compose-hub-1       | * JetBrains Hub 2022.3 runtime environment is successfully configured
docker-compose-hub-1       | * Loading logging configuration from /opt/hub/lib/ext/log4j.xml
docker-compose-hub-1       | * Redirecting JetBrains Hub 2022.3 logging to /opt/hub/logs/internal/services/bundleProcess
docker-compose-hub-1       | * Configuring Service-Container[bundleProcess]
docker-compose-hub-1       | * Configuring Bundle Backend Service
docker-compose-hub-1       | * Configuring Starting Page Service
docker-compose-hub-1       | * Configuring Hub Configurator
docker-compose-hub-1       | * Configuring Hub
docker-compose-hub-1       | * Configuring Bundle Hub Configurator
docker-compose-hub-1       | * Starting Service-Container[bundleProcess]
docker-compose-hub-1       | * Starting Bundle Backend Service
docker-compose-hub-1       | * Starting Starting Page Service
docker-compose-hub-1       | * JetBrains Hub 2022.3 will be available on [http://172.16.40.250:8082/bundle/starting] after start
docker-compose-hub-1       | * Starting Hub Configurator
docker-compose-hub-1       | * Starting Hub
docker-compose-hub-1       | * Starting Bundle Hub Configurator
docker-compose-datalore-1  | 15:56:49.109 INFO  [main] o.s.web.context.ContextLoader            Root WebApplicationContext: initialization started
docker-compose-datalore-1  | 15:56:49.109 INFO  [main] o.s.web.context.ContextLoader            Root WebApplicationContext: initialization started
docker-compose-datalore-1  | 15:56:53.239 INFO  [main] o.f.core.internal.command.DbValidate     Successfully validated 87 migrations (execution time 00:00.447s)
docker-compose-datalore-1  | 15:56:53.248 INFO  [main] o.f.core.internal.command.DbMigrate      Current version of schema "infra": 086
docker-compose-datalore-1  | 15:56:53.249 INFO  [main] o.f.core.internal.command.DbMigrate      Schema "infra" is up to date. No migration necessary.
docker-compose-datalore-1  | 15:56:57.851 INFO  [main] o.s.web.context.ContextLoader            Root WebApplicationContext initialized in 8740 ms
docker-compose-datalore-1  | 15:56:57.956 INFO  [taskScheduler-1] j.d.u.s.impl.groups.HubGroupsServiceImpl No Hub events have been ever processed. Importing initial Hub groups.
docker-compose-datalore-1  | 15:56:58.159 ERROR [taskScheduler-1] o.s.s.s.TaskUtils$LoggingErrorHandler    Unexpected error occurred in scheduled task
docker-compose-datalore-1  | javax.ws.rs.ProcessingException: java.net.ConnectException: Connection refused
docker-compose-datalore-1  |    at org.glassfish.jersey.client.internal.HttpUrlConnector.apply(HttpUrlConnector.java:269)
docker-compose-datalore-1  |    at org.glassfish.jersey.client.ClientRuntime.invoke(ClientRuntime.java:297)
docker-compose-datalore-1  |    at org.glassfish.jersey.client.JerseyInvocation.lambda$invoke$1(JerseyInvocation.java:675)
docker-compose-datalore-1  |    at org.glassfish.jersey.client.JerseyInvocation.call(JerseyInvocation.java:697)
docker-compose-datalore-1  |    at org.glassfish.jersey.client.JerseyInvocation.lambda$runInScope$3(JerseyInvocation.java:691)
docker-compose-datalore-1  |    at org.glassfish.jersey.internal.Errors.process(Errors.java:292)
docker-compose-datalore-1  |    at org.glassfish.jersey.internal.Errors.process(Errors.java:274)
docker-compose-datalore-1  |    at org.glassfish.jersey.internal.Errors.process(Errors.java:205)
docker-compose-datalore-1  |    at org.glassfish.jersey.process.internal.RequestScope.runInScope(RequestScope.java:390)
docker-compose-datalore-1  |    at org.glassfish.jersey.client.JerseyInvocation.runInScope(JerseyInvocation.java:691)
docker-compose-datalore-1  |    at org.glassfish.jersey.client.JerseyInvocation.invoke(JerseyInvocation.java:674)
docker-compose-datalore-1  |    at org.glassfish.jersey.client.JerseyInvocation$Builder.method(JerseyInvocation.java:422)
docker-compose-datalore-1  |    at org.glassfish.jersey.client.JerseyInvocation$Builder.get(JerseyInvocation.java:318)
docker-compose-datalore-1  |    at jetbrains.jetpass.client.oauth2.OAuth2Client.getHubScope(OAuth2Client.kt:45)
docker-compose-datalore-1  |    at jetbrains.jetpass.client.hub.HubClient.getAccountsClient(HubClient.kt:51)
docker-compose-datalore-1  |    at jetbrains.datalore.userManagement.server.impl.hub.b.invoke(b.java:7)
docker-compose-datalore-1  |    at jetbrains.datalore.userManagement.server.impl.hub.b.invoke(b.java:1)
docker-compose-datalore-1  |    at kotlin.SynchronizedLazyImpl.getValue(LazyJVM.kt:74)
docker-compose-datalore-1  |    at jetbrains.datalore.userManagement.server.impl.hub.LazyHubAccountsClient.a(LazyHubAccountsClient.kt:9)
docker-compose-datalore-1  |    at jetbrains.datalore.userManagement.server.impl.hub.LazyHubAccountsClient.getEventClient(LazyHubAccountsClient.kt:10)
docker-compose-datalore-1  |    at jetbrains.datalore.userManagement.server.impl.groups.HubGroupsServiceImpl.c(HubGroupsServiceImpl.kt:170)
docker-compose-datalore-1  |    at jetbrains.datalore.userManagement.server.impl.groups.HubGroupsServiceImpl.a(HubGroupsServiceImpl.kt:6)
docker-compose-datalore-1  |    at jetbrains.datalore.userManagement.server.impl.groups.HubGroupsServiceImpl.a(HubGroupsServiceImpl.kt:135)
docker-compose-datalore-1  |    at jetbrains.datalore.userManagement.server.impl.groups.HubGroupsServiceImpl.updateGroupsFromHub(HubGroupsServiceImpl.kt:264)
docker-compose-datalore-1  |    at java.base/jdk.internal.reflect.NativeMethodAccessorImpl.invoke0(Native Method)
docker-compose-datalore-1  |    at java.base/jdk.internal.reflect.NativeMethodAccessorImpl.invoke(Unknown Source)
docker-compose-datalore-1  |    at java.base/jdk.internal.reflect.DelegatingMethodAccessorImpl.invoke(Unknown Source)
docker-compose-datalore-1  |    at java.base/java.lang.reflect.Method.invoke(Unknown Source)
docker-compose-datalore-1  |    at org.springframework.aop.support.AopUtils.invokeJoinpointUsingReflection(AopUtils.java:344)
docker-compose-datalore-1  |    at org.springframework.aop.framework.ReflectiveMethodInvocation.invokeJoinpoint(ReflectiveMethodInvocation.java:198)
docker-compose-datalore-1  |    at org.springframework.aop.framework.ReflectiveMethodInvocation.proceed(ReflectiveMethodInvocation.java:163)
docker-compose-datalore-1  |    at org.springframework.transaction.interceptor.TransactionInterceptor$1.proceedWithInvocation(TransactionInterceptor.java:123)
docker-compose-datalore-1  |    at org.springframework.transaction.interceptor.TransactionAspectSupport.invokeWithinTransaction(TransactionAspectSupport.java:388)
docker-compose-datalore-1  |    at org.springframework.transaction.interceptor.TransactionInterceptor.invoke(TransactionInterceptor.java:119)
docker-compose-datalore-1  |    at org.springframework.aop.framework.ReflectiveMethodInvocation.proceed(ReflectiveMethodInvocation.java:186)
docker-compose-datalore-1  |    at org.springframework.aop.framework.JdkDynamicAopProxy.invoke(JdkDynamicAopProxy.java:215)
docker-compose-datalore-1  |    at jdk.proxy3/jdk.proxy3.$Proxy145.updateGroupsFromHub(Unknown Source)
docker-compose-datalore-1  |    at java.base/jdk.internal.reflect.NativeMethodAccessorImpl.invoke0(Native Method)
docker-compose-datalore-1  |    at java.base/jdk.internal.reflect.NativeMethodAccessorImpl.invoke(Unknown Source)
docker-compose-datalore-1  |    at java.base/jdk.internal.reflect.DelegatingMethodAccessorImpl.invoke(Unknown Source)
docker-compose-datalore-1  |    at java.base/java.lang.reflect.Method.invoke(Unknown Source)
docker-compose-datalore-1  |    at org.springframework.scheduling.support.ScheduledMethodRunnable.run(ScheduledMethodRunnable.java:84)
docker-compose-datalore-1  |    at org.springframework.scheduling.support.DelegatingErrorHandlingRunnable.run(DelegatingErrorHandlingRunnable.java:54)
docker-compose-datalore-1  |    at java.base/java.util.concurrent.Executors$RunnableAdapter.call(Unknown Source)
docker-compose-datalore-1  |    at java.base/java.util.concurrent.FutureTask.runAndReset(Unknown Source)
docker-compose-datalore-1  |    at java.base/java.util.concurrent.ScheduledThreadPoolExecutor$ScheduledFutureTask.run(Unknown Source)
docker-compose-datalore-1  |    at java.base/java.util.concurrent.ThreadPoolExecutor.runWorker(Unknown Source)
docker-compose-datalore-1  |    at java.base/java.util.concurrent.ThreadPoolExecutor$Worker.run(Unknown Source)
docker-compose-datalore-1  |    at java.base/java.lang.Thread.run(Unknown Source)
docker-compose-datalore-1  | Caused by: java.net.ConnectException: Connection refused
docker-compose-datalore-1  |    at java.base/sun.nio.ch.Net.connect0(Native Method)
docker-compose-datalore-1  |    at java.base/sun.nio.ch.Net.connect(Unknown Source)
docker-compose-datalore-1  |    at java.base/sun.nio.ch.Net.connect(Unknown Source)
docker-compose-datalore-1  |    at java.base/sun.nio.ch.NioSocketImpl.connect(Unknown Source)
docker-compose-datalore-1  |    at java.base/java.net.Socket.connect(Unknown Source)
docker-compose-datalore-1  |    at java.base/sun.net.NetworkClient.doConnect(Unknown Source)
docker-compose-datalore-1  |    at java.base/sun.net.www.http.HttpClient.openServer(Unknown Source)
docker-compose-datalore-1  |    at java.base/sun.net.www.http.HttpClient.openServer(Unknown Source)
docker-compose-datalore-1  |    at java.base/sun.net.www.http.HttpClient.<init>(Unknown Source)
docker-compose-datalore-1  |    at java.base/sun.net.www.http.HttpClient.New(Unknown Source)
docker-compose-datalore-1  |    at java.base/sun.net.www.http.HttpClient.New(Unknown Source)
docker-compose-datalore-1  |    at java.base/sun.net.www.protocol.http.HttpURLConnection.getNewHttpClient(Unknown Source)
docker-compose-datalore-1  |    at java.base/sun.net.www.protocol.http.HttpURLConnection.plainConnect0(Unknown Source)
docker-compose-datalore-1  |    at java.base/sun.net.www.protocol.http.HttpURLConnection.plainConnect(Unknown Source)
docker-compose-datalore-1  |    at java.base/sun.net.www.protocol.http.HttpURLConnection.connect(Unknown Source)
docker-compose-datalore-1  |    at java.base/sun.net.www.protocol.http.HttpURLConnection.getInputStream0(Unknown Source)
docker-compose-datalore-1  |    at java.base/sun.net.www.protocol.http.HttpURLConnection.getInputStream(Unknown Source)
docker-compose-datalore-1  |    at java.base/java.net.HttpURLConnection.getResponseCode(Unknown Source)
docker-compose-datalore-1  |    at org.glassfish.jersey.client.internal.HttpUrlConnector._apply(HttpUrlConnector.java:378)
docker-compose-datalore-1  |    at org.glassfish.jersey.client.internal.HttpUrlConnector.apply(HttpUrlConnector.java:267)
docker-compose-datalore-1  |    ... 48 common frames omitted

Here is docker-compose.yaml
version: "3.9"
services:
  datalore:
    image: jetbrains/datalore-server:2022.3
    ports:
      - "8080:8080"
    expose: [ "8081", "5050", "4060" ]
    networks:
      - datalore-backend-network
    volumes:
      - "/opt/jetbrains/datalore/data:/opt/data"
      - "/var/run/docker.sock:/var/run/docker.sock"
    environment:
      DB_PASSWORD: "password"
      DB_USER: "username"
      DB_URL: "jdbc:postgresql://172.16.40.250:5432/datalore"
      HUB_PUBLIC_BASE_URL: "http://172.16.40.250:8082/hub"
      HUB_DATALORE_SERVICE_ID: "2c8caadc-a3db-4b9e-9ac8-5b36365488fa"
      HUB_DATALORE_SERVICE_SECRET: "zkjYtLOBVwxe"
      HUB_PERM_TOKEN: "perm:YWRtaW4=.NDQtMA==.jVN3xblFxkPkaXMD0HexOU7QijbcyV"
      HUB_FORCE_EMAIL_VERIFICATION: "false"
      TZ: "Asia/Shanghai"
    depends_on:
      - hub

  hub:
    image: jetbrains/hub:2022.3.15181
    ports:
      - "8082:8080"
      - "8443:8443"
    networks:
      - datalore-backend-network
    volumes:
      - "/opt/jetbrains/hub/data:/opt/hub/data"
      - "/opt/jetbrains/hub/conf:/opt/hub/conf"
      - "/opt/jetbrains/hub/log:/opt/hub/logs"
      - "/opt/jetbrains/hub/backup:/opt/hub/backups"
    environment:
      TZ: "Asia/Shanghai"

networks:
  datalore-backend-network:
    name: datalore-backend-network